The Complete Guide to Simulation eBook
The Step by Step Plan to a Successful Project
You'll learn the proven process that we've used to build hundreds of successful simulation projects.
Save Time and Money
Don't waste time and money on the wrong stuff. Know the exact plan you need to follow to get the job done.
Learn Why Projects Fail so You Don't Make the Mistakes
Learn the biggest mistakes that lead simulation projects to fail. This guide gives you the right plan to ensure success.
Solve Your Problem
The goal of simulation isn't to simulate. It's to solve a problem. Learn how to keep your model focused and solve your problem quickly.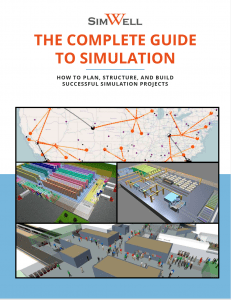 Plan your next simulation project like an expert.
Frequently Asked Quesionts
Do You Really Use This On Every Project?
Yes. At SimWell, we believe following the right process helps solve our clients problems and ensures success in every project. The process found in The Complete Guide To Simulation has been developed over a hundreds of projects in the last 15 years.
What's The Complete Guide To Simulation Cover?
The Complete Guide To Simulation maps the 11 steps we take on every project to be successful. We discuss the step, how to do it, and provide some insight in how it works in our practice.
Is this guide best suited for a certain simulation tool?
This guide is for any simulation tool on the market. If you follow this guide, you'll be more successful on every project with any simulation tool. At SimWell, we specialize in multiple simulation software projects.
The Complete Guide To Simulation is designed by simulation specialists to help you win on every project.