LLamasoft Alternative for Greenfield Analysis and Network Optimization with World-Leading Simulation Capabilities
For years LLamasoft has been thought of as the leader in supply chain network optimization. Supply chain leaders are looking for alternatives to help with greenfield analysis, network optimization, and new challenges post-COVID like risks analysis, inventory optimization, and balancing cost with service. A great LLamasoft alternative is anyLogistix. anyLogistix arrived on the scene in 2014 and has been making leaps and bounds in supply chain design with greenfield analysis, network optimization, and simulation ever since. anyLogistix has been adopted by some of the largest and most innovative supply chain leaders because it is a great alternative for Greenfield Analysis and Network Optimization, and because of its best-in-class simulation capabilities. The purpose of this article is to share why anyLogistix is a great LLamasoft alternative.
Advantages of anyLogistix (ALX)
1. Cost – anyLogistix provides a ton of value at a reasonable cost. Pricing is straightforward and transparent. You can see it at anyLogistix pricing.

2. Greenfield Analysis (GFA) – GFA is used by companies to determine the optimal number and location for a physical location; distribution centers, hubs, warehouses, shipping facilities, etc. Most legacy network optimization tools have GFA, but they use a straight-line system to determine ideal locations.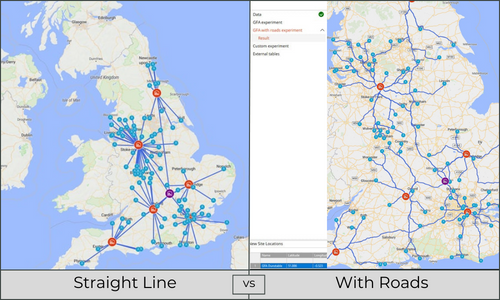 What makes ALX special is it allows a GFA with roads experiment, which allows you to use actual roads, infrastructure, and miles to determine more opportunistic areas. As of 01/2023, this is the only product in the market that can do this, making it a best-in-class component for optimal placement of warehouses, distribution centers, suppliers, factories, etc.





It also allows you to set a minimum population area, which helps ensure you can find the quality and quantity of employees for your location and helps ensure adequate infrastructure to accommodate larger vehicles.
3. Simulation – Simulation has been used in the supply chain for decades, but only recently has it become a primary driver of network design. In the past, companies were focused on the lowest cost, which is ideal for Network Optimization. However, it does not capture some of the critical variables of the supply chain like time, variability, customer service, and system interactions. Simulation provides the opportunity to capture multi-stop/milk runs, find the fleet size, and improve customer service through transportation and inventory optimization. Customer experience, growth, and loyalty/retainment have become the main objective for organizations, especially in e-commerce, telecom, pharmaceutical, and other industries where products have high-margin profits or are well-known brand names. Since COVID, we often hear our customers say, "we're being asked questions that we were never asked before, and we don't have the tools to answer them." One example is answering the question of when will we run out of capacity and where, and what should we do about it? Simulation gives you the ability to capture that complexity to predict supply chain performance over time and answer critical what-if questions. anyLogistix uses the world-class AnyLogic engine to power its simulation experiments.
More than a quarter of simulation professionals worldwide choose AnyLogic as the best simulation software tool for business applications.




AnyLogic is utilized worldwide by over 40% of Fortune 100 companies.




Simulation has been around for a long time, but it's now on a steady and upward trend, because businesses like yours, are realizing that to be resilient and competitive, it's a necessity to have a digital twin of their business to work out what-if scenarios, and when it comes to simulation, anyLogistix is the clear winner.
4. Inventory

Optimization

– When it comes to inventory optimization, legacy tools do this through network optimization, which assumes everything will go correctly and according to plan. If you know anything about supply chain networks, you know things do not go according to plan, which is unrealistic. AnyLogistix uses simulation for inventory optimization, which considers real-world randomness, and dependencies, and has a time-based perspective, so it is better for accurately optimizing inventory.




5. Multiple Replenishment Strategies - Most legacy tools allow for one optimal replenishment strategy with one constraint, for instance, you might optimize replenishment considering profit, cost, etc.
With ALX you could optimize replenishment based on multiple constraints, taking into consideration; first, cheapest, closest, fastest, profit, cost, and most inventory (dynamically), uniform, and a split by ratio.




6. A Set Risk Analysis Component – ALX has a set risk analysis component that allows you to address risks or answer questions like, "What would happen if there were an employee strike at this location?" or "What would happen if this port closed down?" or "How would both of these situations affect our service?" This is standard in ALX.
ALX includes bullwhip effect, demand fluctuations, stock-outs, and even policy changes as part of its risk analysis toolset.

ALX includes a set of statistics including target service level, events, recovery time, total cost, revenue, profit, dropped orders, fulfillment, lead times, and bullwhip effect by product.
7. Inside The 4 Walls, Operational & Extensions – ALX is the only tool in that market that can approach a supply chain from a strategic, tactical, and operational level. For example.
Because you can go inside the 4 walls with ALX, you could go inside and analyze the actual lifecycle of a product in a warehouse for example.

anyLogistix's skeleton is Java. The good news is you do not need to know any Java to use it, you can build networks through drag-and-drop blocks like Visio (Anylogic is the extension editor), and this all comes as part of the training that comes with ALX.

However, if you know some Java, there are some advantages. Because ALX is built on Java, if you know or learn some, you can create extensions, change a cost calculation, change the behavior of an agent, or change anything you want for that matter.
8. Mapping/Connection/Structure View - ALX has an excellent feature that allows you to see the structure and connections of your models.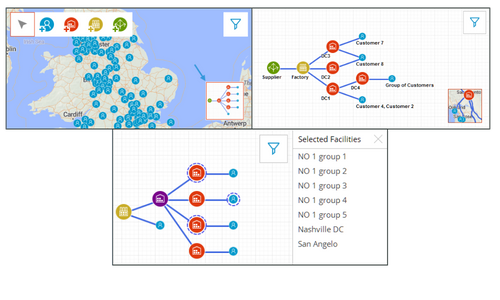 Imagine, at the click of a button, being able to view all the connections, between warehouses, distribution centers, and stores or clients. It gives you the ability to slice your supply chain to only see a specific group or product segments. For example, getting a view of just a dairy supply chain, rather than having to sift through everything else in the supply chain to identify bottlenecks and optimize your dairy supply. This visualization helps significantly with modeling as well as debugging.
9. Company-friendly Licensing Options - ALX has perpetual and subscription licensing. The perpetual license is a one-time investment with annual maintenance Here are a few other reasons why anyLogistix has the friendliest licensing options
ALX perpetual licenses may be shared with others in your department. It is a networkable license which makes it easy to share, train multiple users, and optimize usage.

Better for consulting, sustainable technology and long-term investing - because of the option for perpetual licensing, the cheaper price, and not having to renegotiate licensing deals every couple of years:

ALX allows you to focus on your clients and new business while driving costs down for yourself and the client.

Knowing your licensing pricing will not fluctuate from year to year enables you to predict profit margins more accurately.

No need to consider evaluating other software because with perpetual licensing, you own it for life. Contemplating new software every negotiating term requires investing time in the process, resources, retraining, software costs, support, and potential coaching on your first project engagement.