The 2nd Annual Supply Chain Sustainability Hackathon was held in partnership with SimWell and The Ohio State University Fisher College of Business and generously supported by The Kroger Co. Foundation. This event took place September 21-23, 2023. We'll dive into the timeline of events to give you a glimpse into the journey for the participants. A similar format will be used for the Hackathon in 2024.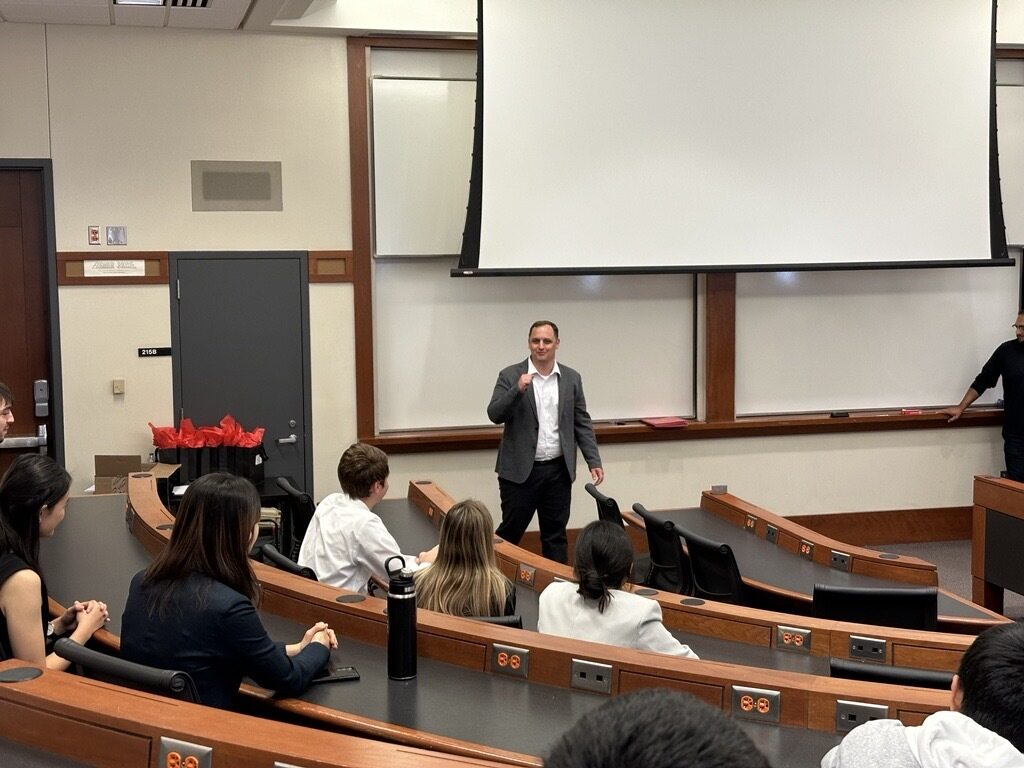 The Hackathon was a whirlwind of learning and problem-solving:
Thursday: Supply Chain Training
On Thursday, students were given a valuable head start with a two-hour training session. Here, they delved into the intricacies of supply chain network optimization and received hands-on training with AnyLogistix, a leading supply chain analytics software. This initial training set the stage for what was to come, equipping participants with the tools they needed to face the upcoming challenges.
Friday: Receiving the Prompt
With the training under their belts, Friday brought forth the official prompt. Participants were handed the real-world inspired case involving HoneyCo, "The Humble Honey Hive." Their mission was clear: maintain HoneyCo's commitment to sustainability while addressing the complexities of rapid growth. Armed with their newly acquired knowledge, students had their work cut out for them.
Saturday: Mastering the Software and Presenting to Judges
The clock was ticking, and by Saturday, participants had just one day to master the AnyLogistix software and craft their solutions. The pressure was on as they worked diligently to analyze the case, develop innovative strategies, and balance costs with reducing HoneyCo's carbon footprint.
In the culmination of their efforts, each team was tasked with presenting their findings and recommendations to a panel of judges. The presentations were limited to just 10 minutes, making it imperative that students concisely and effectively communicated their solutions.
The participants' diversity of backgrounds and majors made this year's event even more exceptional. Students from different academic disciplines came together, bringing unique perspectives and insights. Their diverse backgrounds enriched the discussions and solutions, making it incredibly challenging for the judges to pick just one winner. The quality of the presentations was outstanding, a testament to the dedication and collaborative spirit of the students.
We thank our panel of judges, Karen McVey, Andy Keller, and Deborah "Debbie" Ryan, who faced the tough task of selecting winners from a pool of exceptional presentations. Their expertise and guidance were invaluable in determining the recipients of the scholarships.
Now, let's talk about the true stars of the show—the students from The Ohio State University Fisher College of Business. Your enthusiasm and energy brought this event to life, and it was inspiring to witness your dedication to learning and problem-solving in the field of supply chain sustainability. This hackathon provided a unique opportunity for you to develop essential analytics skills, gain sustainability knowledge, and gain experience presenting to business executives—skills that will undoubtedly serve you well in your future careers.
We also want to extend our appreciation to Isidro Liñan, Ph.D., MBA, CSCP, Joe Moyer, and Nicholas Geary of SimWell for their dedication to developing the case, providing training, and supporting the competition. This partnership exemplifies our commitment to preparing students for real-world logistics and supply chain management challenges.
A special shoutout and heartfelt thanks go to Vince Castillo, a professor at The Ohio State University who organized the hackathon from OSU's end and worked diligently to secure the scholarship money. Your dedication and efforts were instrumental in making this event possible.
Now, without further ado, it's time to announce the 2023 Supply Chain Sustainability Hackathon scholarship recipients: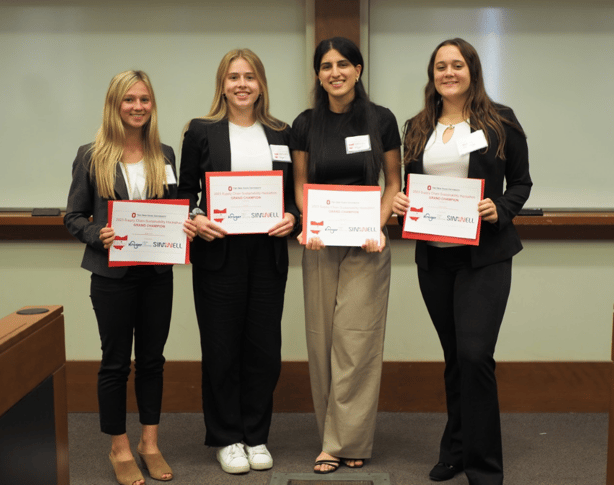 Underclassmen Category (1st and 2nd year students):
Grand Champions ($3000 scholarship prize): Hanna Faulkner (Int'l Business), Maggie Slack (Logistics Management), Lily Smiley (Marketing), and Sarah Zouaoui (Exploring options).





Runners-up ($1500 scholarship prize): Kunsh Puranik (Logistics Management and Int'l Business) and Rhea Reddy (Finance).
Upperclassmen Category (3rd and 4th year students):
Grand Champions ($3500 scholarship prize): Danny Thorson (Operations Management) and Illya Yefymenko (Logistics Management and Finance).





Runners-up ($2000 scholarship prize): Chloe Keim (Finance and Logistics Management), Grace Gao (Operations Management and Logistics Management), and Sebastian Marker (Industrial and Systems Engineering).
Congratulations to all the scholarship recipients!
Your achievements reflect your dedication and hard work, and we do not doubt that you'll continue to make valuable contributions to the field of supply chain sustainability.
In closing, we want to express our sincere gratitude to everyone who participated in this incredible event. Your passion for sustainability and dedication to finding innovative solutions to supply chain challenges are commendable. We can't wait to see what next year's Hackathon will bring, and we're already looking forward to it.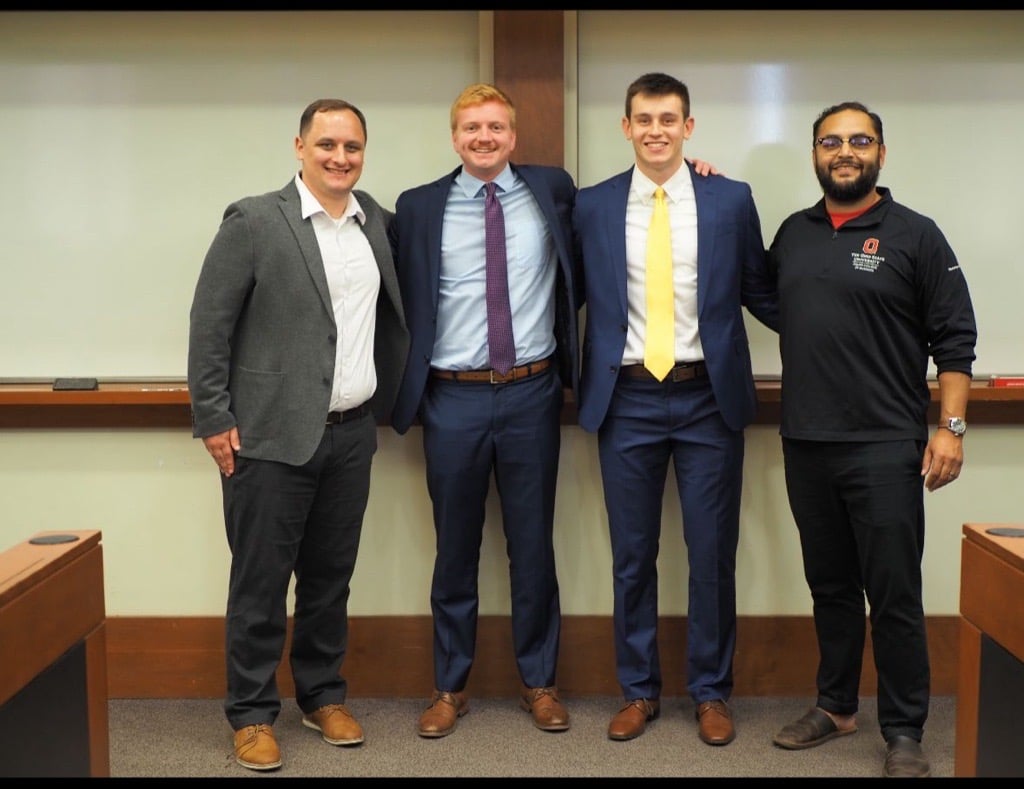 About SimWell
SimWell Consulting and Technologies is a global company specializing simulation, optimization, and digital twin technology. Our core mission is to unlock simulation at scale. We empower leaders and operators to maximize their current resources, optimize their operations, and elevate their performance with simulation. We build models of our customers operation, test scenarios, and predict how it will perform in a risk-free environment.
With SimWell as your partner, your team will have the tools to make confident decisions, optimize your process, and press fast forward on your business.
OR send us a note at hi@simwell.io