Today supply chain has taken the center spotlight in every organization around the world and leaders have looked for solutions externally and/or internally to solve theirs. Frustration, stress, confusion, and resistance have been factors expressed by leaders in the supply chain and have driven some leaders to fight or flee. As many have revealed, there is so much going on that throwing capital and resources into solving their immediate issues has been the way of dealing with it and has added focus on capacity planning as a way to move forward with what is expected to be the new norm. As a result, this has impacted customer's bottom line and has contributed to today's inflation.
Background
Supply chain leaders are looking to take a step in the right direction, but many are steered away due to: current issues, immediate needs, not feeling knowledgeable to understand the transformation stages, not having a clear vision, the innovative concepts that require a different mindset/change management are not there, they don't see immediate ROI in technologies such as digital twin, while other say there is no true value proposition. We get it because just like any new technology it's really a journey that each company must take as each has their own business challenge to find their true value. To put all this into simpler terms, there are too many uncertainties, and stages, and even though the technologies are there to help, it makes companies feel that a step in the right direction is more of a leap too large to justify.
I'm going to share our journey and introduce how SimWell supports companies to adopt the right technologies and introduce the right mindset to manage expectations. Our dedication is to support supply chain leaders like yourself to be knowledgeable and who else than one of the largest simulation and optimization organizations in the world, to share this roadmap of what it takes to get there.
Path To Supply Chain Autonomy
Let me introduce Gartner's path toward supply chain autonomy, this can be considered the long play of that roadmap.

Reaching each level requires resources, data, processes, the right skill set, technology, experience, investment, time, engagement, and change management. Essentially autonomy is considered the epitome of what's called reaching supply chain excellence, our gold standard of being world class. This is where an organization self-manages itself and the organization has accepted autonomy. To reach this level many technologies need to be used but one that is a must for all organizations is simulation. Simulation is the foundation technology to build a digital twin. As shown above, the Digital twin is found in the augmentation phase and discussed in Industry 4.0, which is defined as a digital representation of a real-world entity or system (Expect every industry to define digital twin a bit differently). With today's digitalization of organizations, companies have found it easier to achieve accuracy that is very close to 99%. Once a digital twin is completed, you essentially take a snapshot of your data to help understand the current state and the future state. In return, you can evaluate these future impacts and make changes today, prescribe optimal solutions based on current circumstances or scenarios to improve profit, reduce costs, reduce risk, improve the customer experience, etc. As a result, the organization will gain the capability of effectively and efficiently making decisions, while taking into consideration all the existing volatility to prescribe a desired result.
To get to this level organizations must be digitally strong, which for some means investing in ERP Systems and capturing transactions in the right physical object to be able to digitize it successfully.
We can further provide more details on digitization but what truly matters is to begin:
transform and capture the behavior of the physical object to the digital object to create a digital shadow
design a digital model, which is the representation of those nodes, physical objects, flows of data/goods, and processes that exist. Essentially these models can designed in a network design tool
build a digital twin with the ability to not only send data to the digital object but to receive data back to make modifications and changes in the physical object / real world.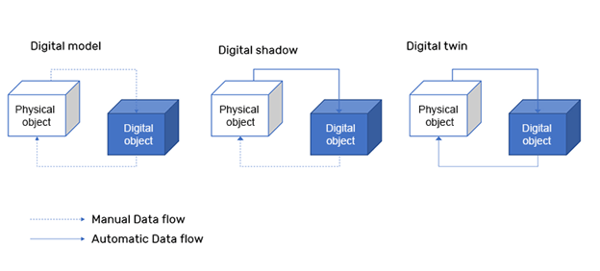 Results
As a result, to get started on this journey you'll first need to:
Qualify the organization's level of digitization to evaluate the quality of the data and determine how ready the organization is for building a digital twin. To be clear, automation is not a required phase for augmentation to occur. In many cases, it's probably best to digitize the current state and evaluate if the suggested automation will best serve its purpose by evaluating it in the digital twin to make sure the expected desired result is being reached and if the ROI makes sense.
Evaluate the organization's level of adoption for the technology, level of engagement, and backing to determine the right level of change management needed and to be able to implement and manage expectations successfully.
Understand the process, time, and cost of creating your Digital model, transform the shadow model, and build your digital twin.
Create a dynamic dashboard to provide insightful analytics to tell the story.
Prescribe solutions and results back into the organization's systems.
Use ML, AI, and other required technologies to gradually transform and implement autonomous changes.
SimWell is one of the largest simulation consulting companies in the world and we are dedicated in leading organizations to solving complex business problems. We specialize in simulation, optimization, artificial intelligence, data science, and other technologies. We believe our customers should never have to worry about choosing the wrong option when they make a decision inside their business. We provide any organization with the resources, software, and services to make it possible for supply chain leaders like yourself to envision a better future for your organization. Let's talk today!