Case Study: Simulation & AI as a Decision Making Tool for Supply Operations
Overview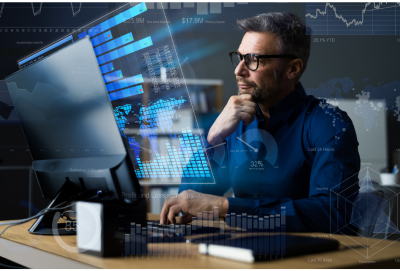 To achieve fast-paced excellence in the supply chain, companies need to be more flexible and respond fast with well-thought-out decisions to the challenges that they face, such as supply disruptions and demand fluctuations. One of our clients, a leader in managed clothing solutions, uses multiple supply policies for thousands of its products and wants to compare and find the best policy for each product and wants to try a new AI-based policy on them.
Testing Without Trial and Error
In this context of trying to achieve fast and efficient decision-making, the challenge is how to find a way to test the different supply policies on all the products without the costs of trial and error in the real world environment and how to get insights quickly, before the decisions before their real implementation. In other words, how to offer the client a virtual environment in which they can test without risks. Simulation is the best technology for this type of challenge. It offers a risk-free environment to test decisions and many what-if scenarios.
Solution
The skills and experience that SimWell has in the field of Simulation make it one of the best companies that can build such a tool. This is one among many reasons why the client chose us to help them. SimWell developed a simulation model for this client that allows them to test any scenario that they can think of and get its results quickly. The solution is not only a simulation model but also a dashboard that allows the visualization and comparison of the multiple tested scenarios.
The simulation model is developed with AnyLogic software, and it comprises an input interface that allows the user to design the scenario that they want to test (the policy and its parameters, the products, the time stamp, and more) and a dashboard showing important KPIs (Key Performance Indicators) such as cost and inventory levels, in real-time during the simulation. The outputs of the simulation are visualized in a Power BI dashboard that shows the results in the form of different KPIs and allows the comparison of many simulated scenarios based on these KPIs. The simulation model will also allow for the training and testing of an AI-based policy that will dynamically decide in real-time whether to order products or not, from which supplier, and what quantity should be ordered.
The Outcome
The tests and the feedback from the client demonstrates how important of a tool it is for them since it will enhance their supply operations and their global supply chain performance. The solution that SimWell built will serve as a decision-making tool for the client. Knowing the decision outcomes in advance will reduce a lot of supply chain costs. The tool allows the client to proactively test and choose the best policies for each one of their products in an extremely easy and fast way, thus ensuring better flexibility and service levels.